Your Future Is Created By What You Do
TODAY
.
Fitness Classes
Are you ready to get fit? Do you want to workout with others to help motivate you to push yourself? Hate cardio, but want to make it fun? Boulevard Fitness has just the thing for you – fitness classes!
Available throughout the week, there are a variety of fitness classes, each designed with a specific purpose in mind – everything from improving your cardiovascular endurance, to increasing your flexibility, losing weight, toning your body, improving your focus/mental health and more!
Stop in and find out how to join one of the classes today – your fitness instructors are here and ready to help you work toward your fitness goals!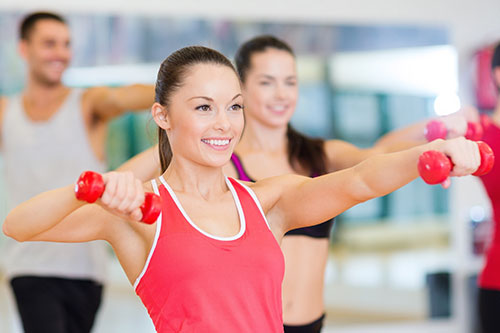 Boulevard Fitness Class Schedule
Classes are currently offered on a limited basis by independent personal trainers at our gym. Please stop by or inquire online for more information on how to join. 
Available Fitness Classes
ZUMBA
A dance class PARTY that blends Latin and international rhythms with body energizing moves into exhilarating and effective fitness program that has revolutionized the way millions of people feel about their work outs and their lives. You don't even need to know how to dance! Just move your body and follow lead, it's very easy! Come join us and you'll see what we mean
BOOTCAMP
A 60 min, high intensity, full body work out. Cardio, core training, speed, strength, power and agility are utilized in this class. All fitness levels are welcomes to encourage members to join in on Monday through Saturday at various times. Provide support, gain motivation and remember that all attendees are here for the same reason… TO GET FIT!
ABS CLASS
This class last approximately 30 minutes and it is designed to enhance your core stability, strength, endurance, and power learn an entirely new approach to training you abs with fellow members in this high energy group setting.
YOGA
For students new to yoga or those looking for a gentle class to reduce tension. Learn breath and body awareness, optimal posture and body mechanics. Focus on correct positioning of 54 basic yoga poses to strengthen lower back, abdominal muscles, legs and upper body. Students experience the meditative benefits of yoga through linking of breath with movement. This class promotes balance, flexibility, and stress reduction.
BOXING
A superior workout along with developing an invaluable skill. A boxing workout is the perfect combination of cardiovascular and muscle training. You'll burn more calories, build more stamina, develop and tone more muscle in a boxing workout. Boxing works both the upper and lower body and because it uses many muscle groups, it is less likely to cause overuse injuries.
CAKE FACTORY (Legs and Glutes)
Tone, Lift, and Tighten. This 30 minute express class is designed to target the booty with a series of interval workouts. You'll complete a combination of small, isolated movements and large dynamic movements that are designed to tone, lift and tighten. Be ready to feel the burn!